Company Information as of December 2013
Founded in 1953
Employs 67 people
Water System

| | | |
| --- | --- | --- |
| Residential Services: 10,301 | Commercial Services: 288 | Total Combined Services: 10,589 |

Water Capacity: Approx. 7 million gallons of water / day
Number of Wells: 11 wells
Number of Tanks: 8 tanks with a capacity of 5.125 million gallons of storage. Another 1 million gallon tank to be completed within 12 months.
Miles of Water Lines: 117 miles of water pipe in sizes ranging from 2" to 16"

Sewer System

| | | |
| --- | --- | --- |
| Residential Services: 10,746 | Commercial Services: 770 | Total Combined Services: 11,516 |

Sewer Capacity: Permitted to treat 4.17 million gallons of wastewater / day
Miles of Sewer Lines: 164 miles of pipe ranging in size from 3" force mains to 24" gravity mains.

Natural Gas System

| | | |
| --- | --- | --- |
| Residential Services: 10,301 | Commercial Services: 288 | Total Combined Services: 10,589 |

Natural Gas Source: Gulf South Pipeline
Miles of Gas Lines: 246 miles
Daphne Utilities Services
Water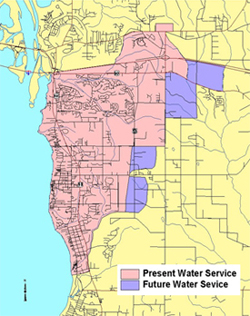 The source of our drinking water is a natural underground aquifer called the Miocene Aquifer. We pump water from this aquifer through eleven wells ranging in depth from 250 to 450 feet deep. Through these wells, we can pump more than 7 million gallons of water per day. Groundwater in general is not as prone to many of the runoff contaminates that can be found in surface water reservoirs, thus we are able to provide a higher-quality drinking water. Our water is treated using disinfection and some filtration to remove or reduce potential contaminates that may come from the source water. Fluoride is also added to promote dental health. Our water is sampled daily from a number of locations throughout the distribution system in accordance with strict guidelines to ensure that it consistently meets the highest quality standards for our community.
Natural Gas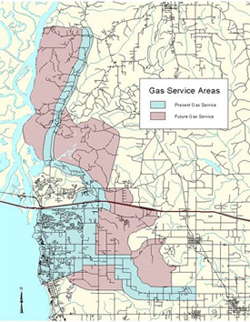 Daphne Utilities provides clean, safe and cost effective natural gas utility services to more than 4000 residential and commercial customers. We serve customers all along the Eastern Shore and as far north as the Crossroads Community near Bay Minette and southeast to Silverhill. We employ a staff of dedicated professionals overseeing and maintaining 240 miles of gas piping to ensure your natural gas is delivered safely and reliably, and meeting our exceeding all regulatory requirements. Natural gas is a reliable, efficient, and clean energy source for all of your heating, cooking and energy needs.
Wastewater
Daphne Utilities is committed to protecting our valuable environmental resource along the shores of Mobile Bay by providing excellent quality wastewater collection and treatment services to our customers. Our staff of dedicated operators works 24/7 to collect and treat water to standards which consistently exceed state and federal regulatory requirements. We have more than 150 miles of collection system piping, 76 pumping stations and a Water Reclamation Facility with the ability to effectively treat more than 4 million gallons of wastewater each day.